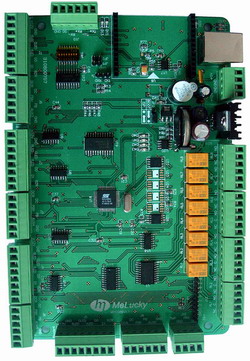 Features:
• Card reader supporting WIEGAND format
• Support ISO14443 TYPE-A, TYPE-B, TYPE-C, ISO15693 and other standard IC cards
• Support card readers from major manufacturers such as HID and MeLucky
• Multiple card readers can be connected at the same time to realize two-way control of entry and exit
• Support fingerprint, palm print, iris and other biometric devices
• With LED display, it can indicate various states such as power supply and communication
• Provides input interfaces such as door sensor and exit button
• Provide output interfaces such as electric lock and alarm, which can be linked with CCTV, anti-theft alarm, fire protection and other systems
• With RS485 or 10/100M Ethernet communication interface (optional)
• Multiple auxiliary input/output interfaces, auxiliary input can be connected to various detectors such as dual detection, infrared, glass breakage, etc.
• It has the function of door opening overtime alarm and door being forcibly opened alarm function
• With fire alarm input, open all door locks within 1 second after receiving the fire signal
• Anti-foldback, area counting function
• Only swipe card, only use password, swipe card and password, swipe card or password, disable and other working modes
• Wall-mounted chassis, which can install accessories such as power supply, charging module, backup battery, etc. to improve the reliability of the system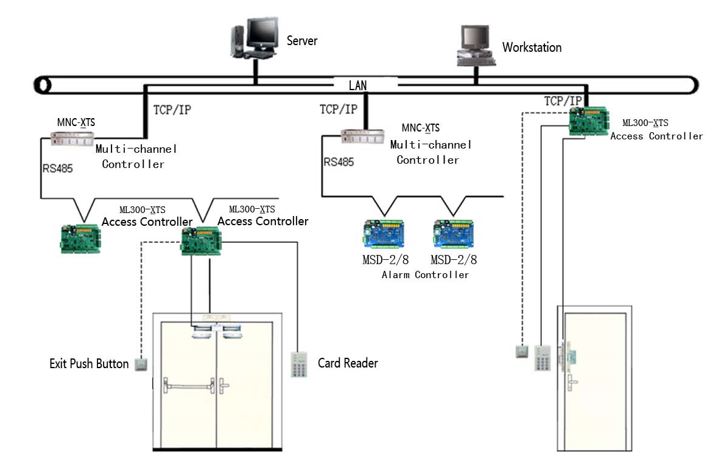 Technical parameters:
Model:                      ML300/ML300TS                ML300-2/ML300-2TS                     ML300-4/ML300-4TS
Dimensions (PCB):       125×105mm                        180×120mm                                 180×120mm
Storage:                    A: 20000/60000                    A: 10000/30000                            A: 5000/15000
                                 B: 40000/60000                     B: 20000/30000                            B: 10000/15000
Working temperature:                                              -20℃~60℃
Working humidity:                                                        ≤95%
Storage temperature:                                               -30℃~70℃
Input voltage:                                                              12V DC
Power consumption:                                                        12W
Input:                               door sensor, exit button, auxiliary input and output electric lock, alarm, Auxiliary output
Applicable card type:                                        Mifare, TI, HID, MeLucky, EM
Communication interface:                                        RS485 or TCP/IP.